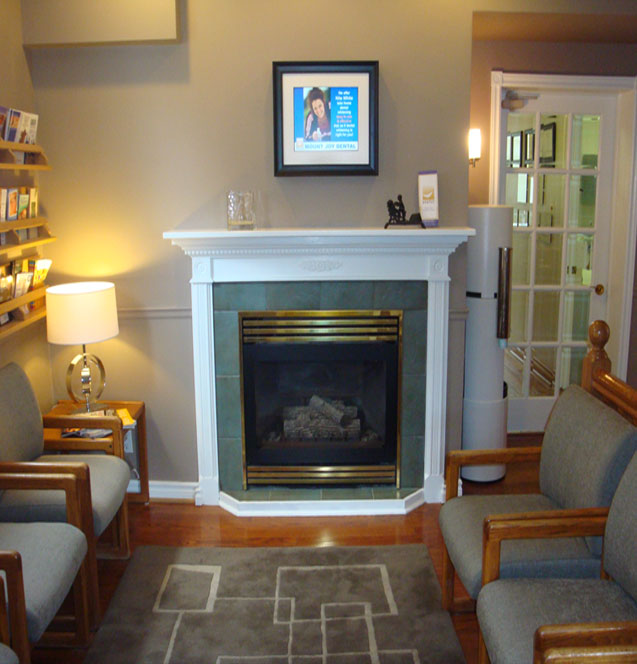 Your Partner In Dental Care
Mount Joy Dental is a family, general and cosmetic practice where every team member strives to offer patients the most minimally invasive dentistry possible. Dental technology is a big part of that and is why we have the most advanced equipment available. Our commitment to you and your family is to provide traditional value dentistry and ensure you're receiving the highest quality care from the latest innovations in dentistry.
Our office is located in the historic property known as the Mount Joy General Store. Although the building was built in 1892, we are a thoroughly modern dental practice with many state of the art technologies. After purchasing the building in 1992, we undertook a major renovation to rescue this deteriorating heritage building on Markham's old Main Street. The result is a modern and efficient clinic providing advanced dental care and preservation of a landmark for all of our town's citizens. We have created a home-like feel dental office.
OFFICE POLICIES
We strive to keep our office running smoothly and on-time. Please take a moment to review our dental office policies and procedures to ensure your complete satisfaction during your next visit, or download our printable Office Policies.
Appointment Scheduling & Cancellations
Appointment times are reserved especially for the patient and are made as soon as possible. We highly recommend that our patients book their next appointment for check up and cleanings before they leave the office to best accommodate their schedule – evening appointments are available but book up quickly.
We confirm patient appointments 2 weeks ahead and then again the day before for check up and cleanings. For all other procedures we confirm the day before the appointment. For new appointments, or to re-schedule your upcoming appointment, simply call us and we will be happy to accommodate you with our next available space.
Please Call Us at least 2 business days in advance of your scheduled appointment. There will be no charge for appointment cancellations with at least 2 business days notice. Missed appointments are subject to a missed appointment charge, or short notice cancellation fee. Please call our office for more details on applicable fees.
Please call our office right away if you are going to be late for your scheduled appointment. We always do our best to accommodate our patients, but in some cases, late arrivals will need to be rescheduled.
Should you have any questions regarding our Office Policies as outlined here, please feel free to call our offices or to email our staff any time to discuss your specific situation further.
Payment & Insurance
All accounts are to be paid in full at each appointment by the patient unless written financial arrangements are signed in advance of your treatment. These special arrangements are approved on a case by case basis.
We will gladly submit your dental insurance claim on your behalf. Reimbursements will be made directly to you from your insurance provider; we do not accept direct payments from insurance providers. Please be advised that it is your responsibility to know your dental plan and any changes that occur from time to time.
Whether you're looking for a new dentist in Markham, to treat your smile, or to find more information about our services, you'd like to stop by and meet our team. Contact us today. We're always welcoming new patients! (905) 294 9905.